What pretty thrills you up here, would be the scenery, weather and of course the food! Being located high uphill, Cameron Highlands is usually linked to the cold chilly weather and almost the best place to be during holidays or when you're feeling the heat in your area! With its temperature, Cameron Highlands offers a wide variety of fruits and vegetables. But aside from that, they also offer a very wide range of mouth watering foods.
BOH TEA PLANTATION
BOH Tea Plantation is a tourist attraction there and you would pass by them when you are heading or leaving Cameron Highlands. You'll get to see the tea farm and now, you get to enjoy a cuppa and desserts like variety of cakes and pies while looking at the beautiful green view surrounding. Worth to come over for check-in as the greenery is so Insta-worthy!
200 SEEDS CAFE
For local Malaysian delights, here is the place! You can enjoy Nasi Lemak with strawberry spicy sauce. How unique is that? Don't leave without trying. Around the cafe there is a strawberry farm. You can plan a trip to pluck strawberries before heading for a meal at the restaurant. The strawberry desserts here is also in many types like everything strawberries infused, strawberry cake, strawberry sundae and strawberry milkshake for you to choose from.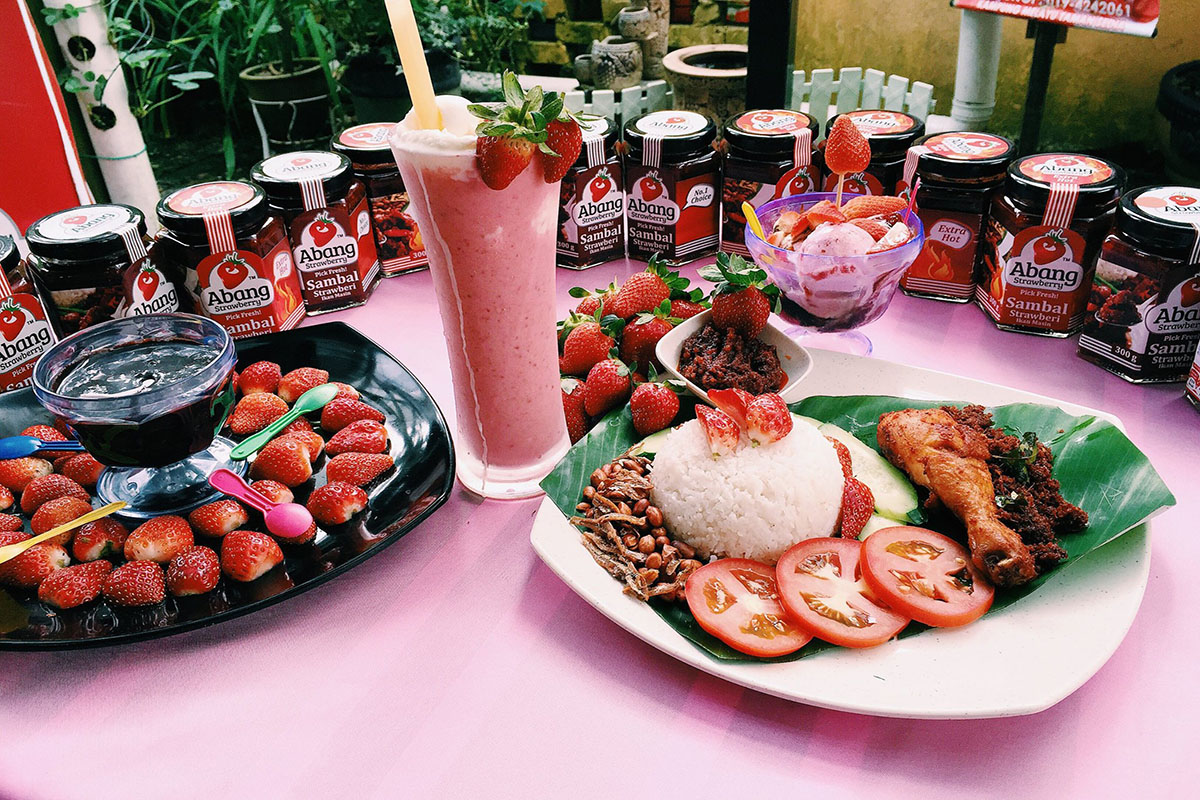 JASMINE CAFE
A western cuisine restaurant with more than 30 years of operation here! They provide Dutch western cuisine and this made a lot of westerners to come over. If you planning for a lunch or dinner date, here is the place. The restaurant itself is designed like a Western English style and especially during Football matches, there are always many people here.
MR AISU
The number one spot in Cameron Highlands for ice creams and desserts. More than 20 types of homemade ice cream sourced from locally produced ingredients fill their menu. Add in dozens of crunchy waffles, cakes and sorbets. Try their signature teh tarik ice cream (with banana drizzled with caramel cinnamon sauce).
FERM NYONYA RESTAURANT
This restaurant offers everything from Malay Cuisine, Nyonya, Chinese, Steamboat, and Western Cuisine. Nyonya Fried Rice and Spicy Tomyum Soup is a hit here! In the cold nights of Cameron Highlands, steamboat can help you. Their extensive selection of food can guarantee that you will be served with anything you want.