The largest state of Malaysia, Sarawak is well known for its variety ethnic population like Iban, Bidayuh and etc. A haven of natural landscape with various national parks and wildlife sanctuaries. Sarawak often attracts tourists for jungle-related activities and to explore cities with a small-town feel. Sarawak produces a major share of the total oil that Malaysia produces and prides itself for being home to the first oil well in the country!
MOUNT MULU
The second highest peak in Sarawak. What is special about this mountain is the limestone formations. You can see caves and rock pinnacles. This is a UNESCO World Heritage Site and a hiking expedition here is highly recommended. The circling of bats at twilight is a treat to watch, so don't miss it! Variety of flora and fauna available here including the endangered Pitcher plant.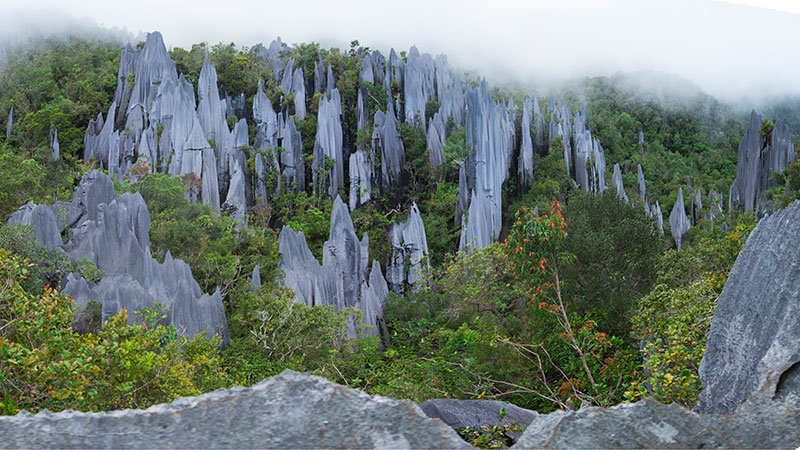 CROCODILE FARM
One of the popular attractions of the oil town of Miri is the Crocodile Farm. There are at least 1,000 of these animals in the farm and you can find out the different species of the crocodile kind. You can get a real experience feel of watching "Crawl" movie. There is also a mini zoo that houses Borneo gibbons, snakes, different species of deer and birds, and this will be loved by kids a lot!
BARIO HIGHLAND
'Land of hundred handshakes', is the home of the smallest ethnic group in Sarawak called Kelabit, known for its traditional crafts and arts. Bario Highland is where the famous small-grained Adan rice is grown. About 13 villages are located around Bario. This is a must visit longhouse. They have their international Bario Food Festival held once a year in July.
CAT MUSEUM
World's first cat museum, covers 4 galleries inside the City Hall buildings. This place is a must visit to all cat lovers! Since the opening in 1988, the Cat Museum gets thousands of annual visitors. Expect to find photographs, posters and a rare Egyptian mummified cat here. There are even sections dedicated to the story of Hello Kitty as well as the Broadway show cats. Wow right?
ASTANA
An iconic building since 1870 during the time of Charles Brooke who was also known as the second White Rajah of Sarawak! The Astana is now the official home of the Governor of Sarawak but it was originally built as a wedding gift for Charles Brooke's wife. Made up of 3 different bungalow areas which are joined by walkways and the Astana enjoys panoramic views over the waterfront of Kuching.